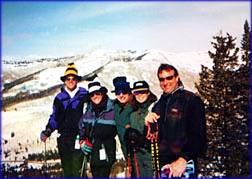 Snowbird, Alta, Solitude and Brighton, 1996
Bryce Resort Ski School and Ski Patrol do Big and Little Cottonwood Canyons, Utah
---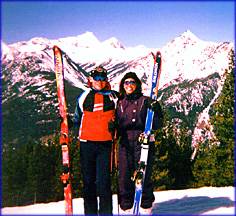 Ok, so we barely took any photos. Sue us. Bill and former wife, Phil and Karen Perkins, and your host, Richard M. Nixon (in the bumble-bee hat), spent 6 days in Utah's Wasatch Mountains doing our second-favorite wintertime activity.
The identification of our favorite wintertime activity is left to the viewer as an exercise.
Actually, the picture here of Phil and Karen was taken at Panorama, British Columbia, but we figured people wouldn't know the difference...
And while we're at it, here's a picture of Don, Ruth and Kent Christian standing in the same spot 4 years earlier and with a different photographer (Adam Strichman), camera (Cannon) and lens (200 mm telephoto). And probably a different film, too.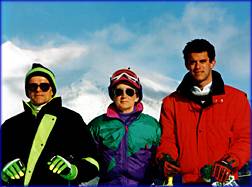 Back to Kent Christian Vacation Resume
---
Kent Christian, Global Programming Solutions, Inc.

Last Revised: January 1, 1998