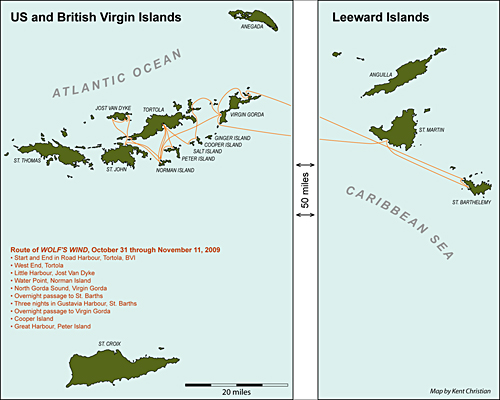 I believe the theme of this year's trip to the British Virgin Islands was "pure blind luck". The luck started the first day; our flight was delayed out of Miami, in fact we had to change to a different plane when the first one malfunctioned. An already short connection with the last ferry of the day to Tortola quickly became an extremely short connection, with our cab driver on the phone to the Native Son ferry office asking them to hold the ferry, that he was bringing a van full of passengers. But we made the last ferry of the day, barely.
Then, we scored the earliest boat checkout time with Sunsail the next morning, so by 9:30am (a record), we were off the dock and headed to Norman Island for some snorkeling and lunch at the Willie T, a good 3 hours ahead of the "pack".
The luck continued when a perfect weather window presented itself, and we were able to sail overnight the 100 miles to St. Barths, our favorite island in the Caribbean. And when we got there, and settled into our prime space on the dock, our boat neighbors said "hey, you got a great spot for the concert" and we said "what concert?" It turned out that one Jimmy Buffett was playing a free (!) concert on the dock 3 nights later as part of the 60th anniversary celebration for Le Select, our favorite dive bar in St. Barths. Luck, luck, luck. So we got to see a free Jimmy Buffett concert from the deck of our boat, and never had to wrestle with some poor parrot-head on land for valuable concert-watching real estate, we watched it all right from our boat.
And to top it all off, I was lucky enough to escort my wife and 4 other delightful ladies around our favorite spots in the Caribbean for 11 days. It's WAY better to be lucky than smart.